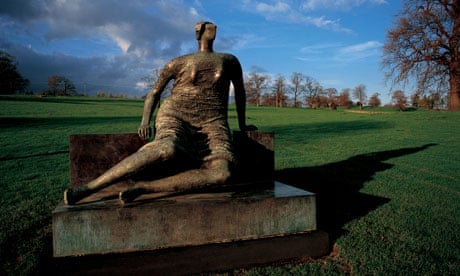 The election of John Biggs as Mayor of Tower Hamlets has stopped the sale of Henry Moore's 'Old Flo' sculpture, putting a victorious end to campaigners' three year battle to save her.
Draped Seated Woman, fondly known as Old Flo, has been on display at the Yorkshire Sculpture Park since 1997.
Wakefield MP Mary Creagh and Bethnal Green and Bow MP Rushanara Ali have led a campaign to keep the 8ft bronze statue in the UK, together with the Museum of London, film-maker Danny Boyle, Tate director Nicholas Serota and the sculptor's daughter Mary Moore.
Lutfur Rahman, the previous Tower Hamlets Mayor, announced his intention to sell the sculpture through auction house Christie's in October 2012. The sale was put on hold when campaigners at the Museum of London uncovered that the sculpture might not be the property of Tower Hamlets, and a two year legal battle ensued.
Mary Creagh MP said:
"It's fantastic news that Labour's John Biggs has put an end to the sale of Old Flo. Art is for everyone. Henry Moore was the son of a miner, and sold Old Flo for less than its market value in the 60s, for people of the East End of London to enjoy after the blitz. She should never have been put up for sale by Tower Hamlets and I am relieved and delighted that she has been saved for the nation to enjoy."
Ends
Notes to editors
1.    Old Flo timeline - http://www.artfund.org/news/2012/12/04/the-story-of-henry-moores-draped-seated-woman
2.            Bromley Council and Tower Hamlets Council are currently contesting ownership of Old Flo. Bromley's claim to the sculpture came to light following new research into the details of the transfer of ownership of the work from the London County Council (LCC). Bromley Council claim that after being acquired in 1962 the statue passed from the LCC to the Greater London Council before finally ending up with Bromley when the London Residuary Body was wound up in 1996.